This chorizo sweet potato skillet is gluten free, loaded with veggies and so full of flavor! Perfect for breakfast, dinner or a side dish.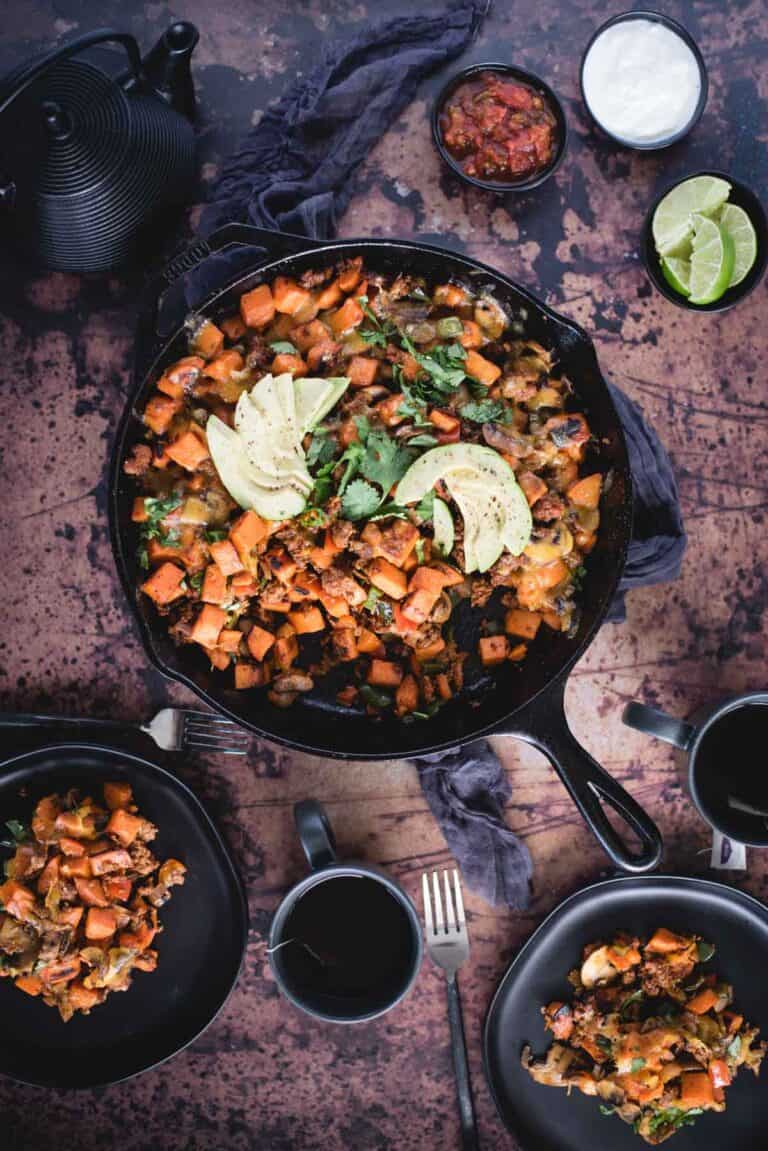 This sweet potato skillet is one of my favorite breakfast recipes hands down! Everyone comments on how good it is and I've made it half a dozen times over the last year or so before (finally!) getting around to sharing it.
What you might not know is that chorizo + sweet potato = epic combo. Rounding that out with chili powder, cumin and other Tex-Mex flavors, this recipe has it all. If you like healthy versions of south of the boarder recipes with lots of flavor, then this one is for you!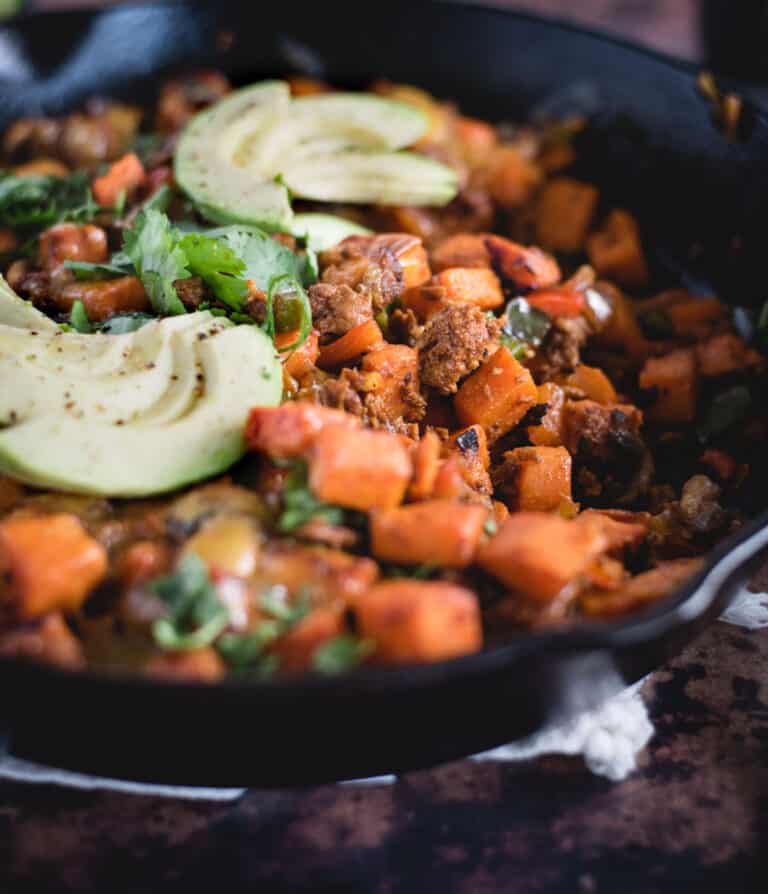 What makes this recipe so great
With a balanced flavor profile, a mix of textures, freshness from the toppings, a hint of spice from the chorizo, this sweet potato skillet is truly quite delicious. It's so good that you'll find yourself craving it and wanting to make it over and over (like I did!).
In addition to taste, this recipe uses sweet potato and other veggies to lighten it up and add some nutrition. The chorizo is very fatty so it isn't the primary ingredient in the dish but adds so much depth and enough protein that this can act as a full meal.
Plus – its an egg free breakfast! How many savory breakfast recipes can say that? In American culture, a breakfast without eggs in some shape or form is not the norm, but many people can't eat them or just don't like them. If that's you, then you'll definitely want to give this one a go.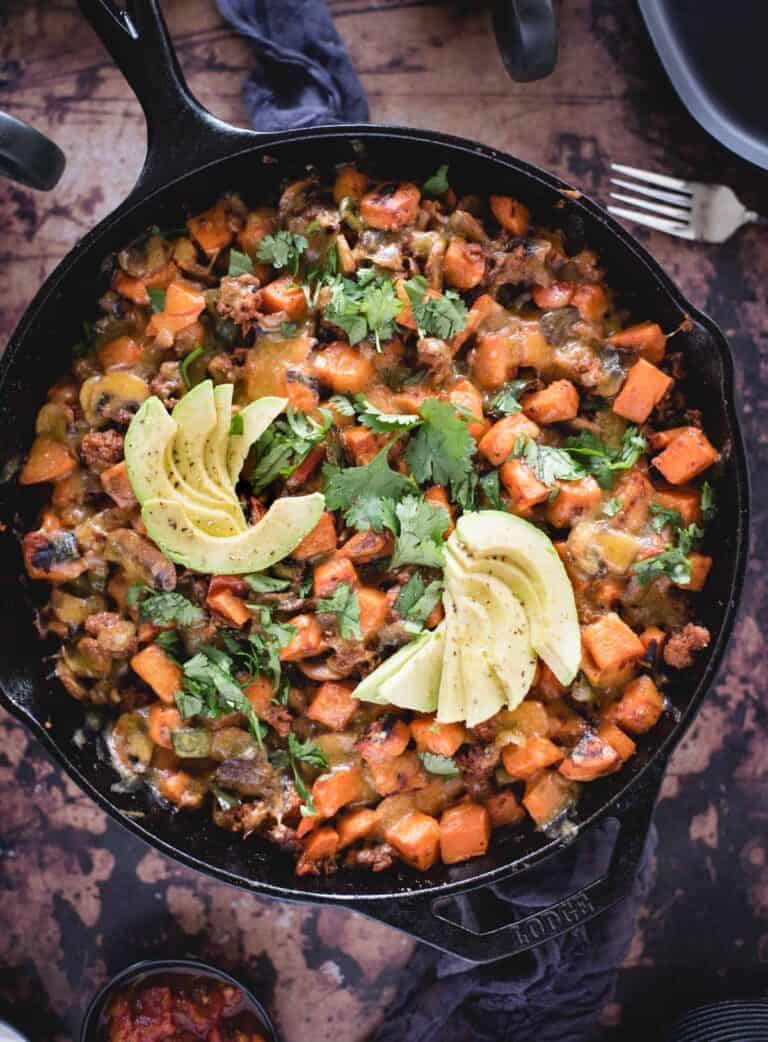 Ingredients
The ingredients for this recipe are simple but a few may be new to you. For this reason, I included some notes below and links in the recipe card to clarify exactly what you'll need.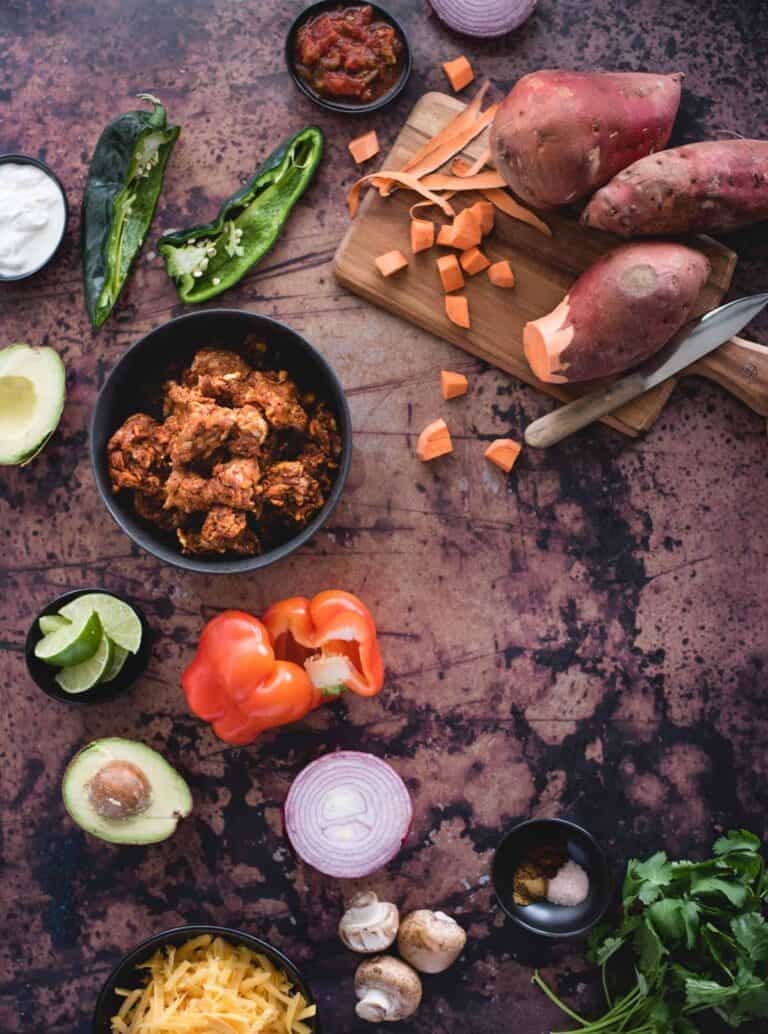 How to make a chorizo sweet potato skillet
This is not a quick and easy recipe but the multiple steps are indeed worth it. Here's are the steps you'll need to follow for making this recipe:
Cook the chorizo, breaking it up into small pieces as you go and then set it aside.
Cook the peppers and onions in the chorizo grease until they're starting to blister.
Add those mushrooms and garlic and cook that down for a few minutes.
Remove the veggies from the pan and set them aside with the chorizo.
Add oil and cook the sweet potatoes, stirring occasionally to keep from burning. You can add a lid during the last 10 minutes of the cooking time to help the sweet potato pieces cook faster.
Season those sweet potatoes!
Add the veggies and chorizo back into the skillet and stir to mix in.
Sprinkle cheese on top and broil for 5 minutes, then add toppings and serve!
Sweet potato skillet tips
As I said earlier on, a sweet potato skillet certainly isn't the quickest meal you can make but it's truly worth the time and effort. The reason for this is simply that the recipe has multiple steps and the sweet potato takes awhile to cook.
That being said, there are some things that can ensure it turns out perfectly for you when you put in all that effort. Here are some of my tips:
FAQ
Can I make this recipe Vegan?
There are some vegan chorizo options like this one from Abbot's Butcher and vegan shredded cheddar. Please notes that you may need to use more oil if you're using a vegan chorizo substitute.
Can I use regular potatoes?
Sure! The cooking time may differ so keep an eye on them.
How do I store the sweet potato hash leftovers?
Just put them in a well sealing container and refrigerate for up to 5 days. Reheat in the microwave before eating.
What to serve with it
This sweet potato hash is perfectly fine as it's own complete meal. I like to serve with lime, salsa and sour cream. If you'd like to serve it alongside something else, here are some ideas: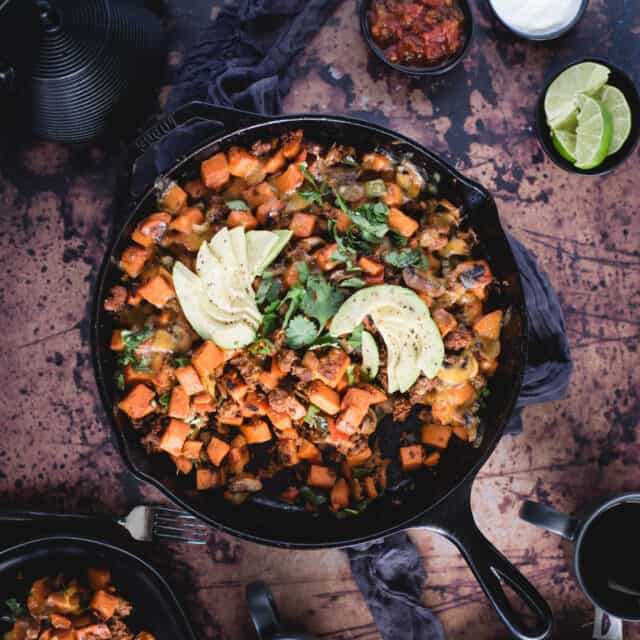 Other sweet potato recipes
If you can't get enough sweet potato, I've got some other recipes to tempt you with. You'll definitely want to check these out:
This chorizo sweet potato skillet is gluten free, loaded with veggies and so full of flavor! Perfect for breakfast, dinner or a side dish.
Ingredients
1 lb. chorizo raw chorizo sausage*
1 medium red onion diced
1 poblano or green bell pepper diced
1 red pepper diced
1 Tbsp. minced garlic
8 oz. mushrooms washed and sliced
2 Tbsp. avocado oil or another cooking oil with a high smoke point
3 lbs. sweet potatoes peeled and diced into 1/2" pieces
1 tsp. ground cumin
2 tsp. Mexican chili powder
1 tsp. salt
1 cup shredded cheddar cheese leave off for dairy free, paleo or Whole30
¼ cup chopped cilantro
1 large avocado sliced
Serve with lime slices, salsa and sour cream optional
Instructions
Heat a large skillet over medium heat. Add chorizo and cook while breaking up into small pieces with a wooden spoon.

Once chorizo has browned through, remove to a separate dish using a slotted spoon and set aside leaving about 1-2 Tbsp. of grease in the pan (if there is more, you can remove it if you want).

Add onion and chopped peppers. Sauté for 3-4 minutes until onion is translucent and peppers are starting to brown. Add garlic and mushrooms and cook another 3-4 minutes until mushrooms have cooked down.

Remove veggies from pan, place in the same bowl as the chorizo and set aside.

Add 1 Tbsp. oil to the pan and once oil is warm, tilt the pan to ensure it coats it evenly.

Add sweet potato and let sit for 1-2 minutes in between stirring to ensure the pieces get nicely seared until sweet potato is cooked through (about 20 minutes, more if potato pieces are larger).**

While sweet potato is cooking, turn the oven on to broil and let it preheat.

Season sweet potato with cumin, chili powder and salt.

Add chorizo and veggies back into the pan and stir to combine. Adjust saltiness to taste and then top with grated cheese.

Put pan in oven for 2-5 minutes until cheese is melted (time will depend on your broiler and the pan's closeness to it).

Remove pan from oven, top with sliced avocado and cilantro and serve while warm with lime wedges, salsa, and sour cream.
Notes
*If your chorizo came in links, cut the sausage skin down one side, peel it off and discard and only use the inner ground sausage. This won't work well with pre-cooked chorizo hot dogs, it has to be raw still for the best results.
**If you have a lid that fits your pan, use it after the first 10 minutes of cooking time once the potatoes have seared to speed up the cooking process. The cooking time for the sweet potatoes is highly dependent on how big the pieces are and how hot your skillet is. If the sweet potatoes are fork tender, they're done.
Tips
Make sure to use a large skillet. Mine is a 12″ cast iron skillet from Lodge. If you use a smaller skillet, the sweet potatoes will steam more than they will sear and you won't get that extra flavor. .
If you are using a cast iron skillet, make sure it is well seasoned or the sweet potato may stick. I know this goes against popular advice but I use a very small amount of dish soap when I clean mine, then dry it well and rub it with a lightly oiled paper paper towel before storing. Its 8 years old and looks brand new and I never need to re-season it!
Make sure to cut your sweet potato pieces small, like slightly larger than a square centimeter.
Chorizo is spicy and so are poblano peppers and chili powder. If you prefer to make it more mild, use a green pepper and add the chili powder slowly, tasting to make sure it isn't too spicy before adding more. You can sub in regular breakfast sausage to make the recipe without any spice but it will lack the distinctive flavor that chorizo has.
Keep a close eye on cheese while it's broiling. Every broiler is different and it is VERY easy to burn it.
If you want to add eggs, make 5-6 indents in the sweet potatoes after sprinkling on the cheese (if you're using a smaller skillet, you may only be able to fit 4). Crack an egg into each one. Instead of broiling to melt the cheese, bake at 400° F (205° C) for 8-10 minutes until whites are set but yolks are still runny.
Nutrition
Calories: 466kcal | Carbohydrates: 42g | Protein: 18g | Fat: 26g | Saturated Fat: 9g | Cholesterol: 50mg | Sodium: 1125mg | Potassium: 922mg | Fiber: 8g | Sugar: 10g | Vitamin A: 25441IU | Vitamin C: 40mg | Calcium: 176mg | Iron: 3mg