Air fryer broccoli is the easiest, simple, delicious low-carb side dish that can be ready in minutes with ingredients found in your spice cabinet.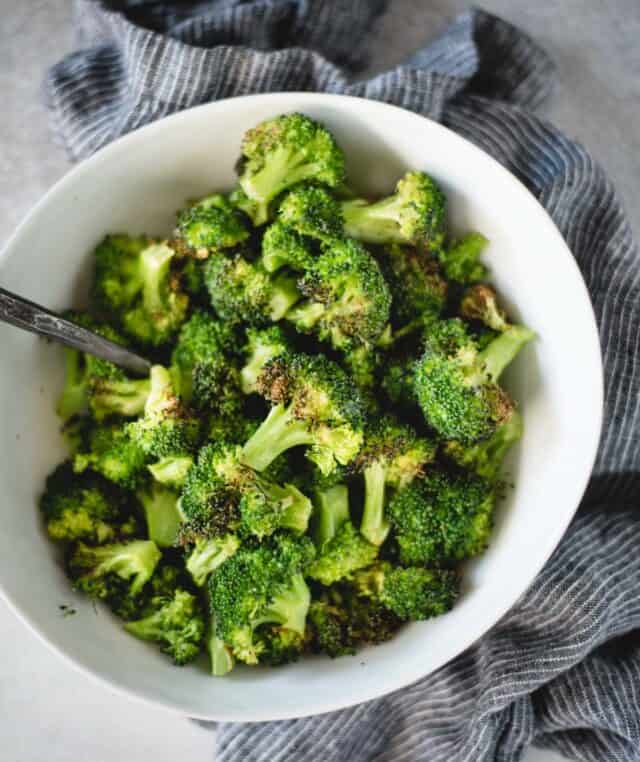 This recipe is so simple, it almost can't even be counted as a 'recipe' but its my go-to favorite way to do air fryer broccoli so I wanted to document and share it with you all. It's all about the cooking method and simple flavors that let the broccoli itself really shine.
If you haven't done broccoli in the air fryer yet, you're in for a treat. It crisps the edges up and gives them that rich roasted, salty taste without having to use the oven. We make it at least once a week, usually more!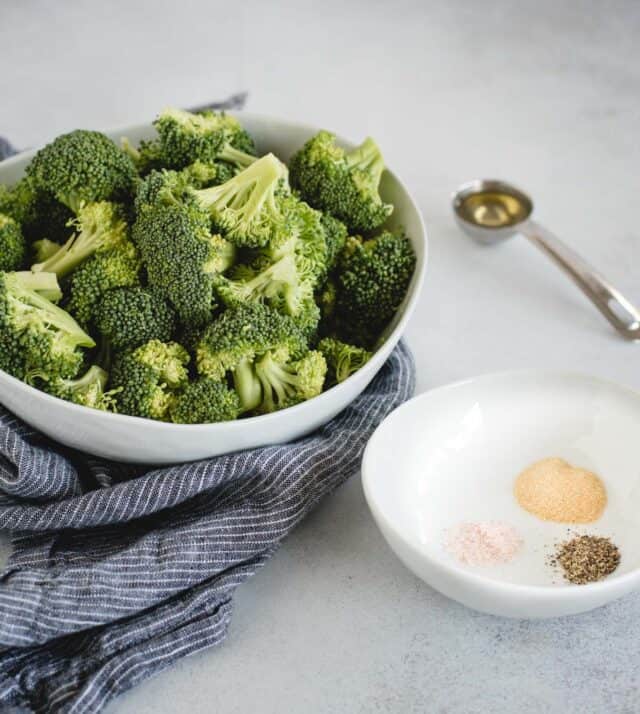 Ingredients
The base ingredients in this recipe are so simple but so delicious. The charring on the broccoli adds so much flavor that you don't need a whole lot of other seasoning. Here's what the recipe calls for:
broccoli
avocado oil olive oil works here too
black pepper
While it's absolutely delectable as is, this recipe is ripe for pretty much any additions or substitutions you can think of. This is an excellent base. Sometimes I add cajun seasoning, a squirt of lemon or whatever herbs I'm cooking with in the main dish. Get creative! Or don't, it's great as written.
How to make crispy air fryer broccoli
Making broccoli in an air fryer is so simple, there are just a few basic steps. Fist and foremost, bust out your air fryer. Then, here's what you do next:
Preheat your air fryer.
While the air fryer is pre-heating, rub those broccoli florets down with oil and seasoning.

Place the broccoli in the air fryer, set it to 400° F and cook for about 7 minutes, shaking the basket half way through.

Remove from air fryer and serve!

Air fryer frozen broccoli
Can you even cook frozen broccoli in an air fryer? Why yes, yes you can! Here are a few tips for making sure your frozen broccoli comes out perfectly:
You may need to cook it a minute or two longer (about 8 or 9 mins total with my COSORI air fryer)
Make sure you're really pressing the seasoning into the oiled broccoli pieces or else it will come off as the broccoli warms up and the frozen water melts off of it. If you notice yours isn't seasoned well at the end, give it an extra shake of salt and toss before serving.
Tips and tricks
This recipe is so simple and easy, I don't have too many tricks up my sleeve but here are a few pointers that will help ensure it comes out perfectly for you every time:
Make sure your broccoli is dry before rubbing with oil and seasoning. This will make sure it comes out as crispy as possible.
Cut any huge broccoli florets in half so they're all roughly the same size. A few big ones and a few tiny ones won't matter but you want the bulk of them to be consistently sized.
Don't be afraid to pull your air fryer basked out and check on it! All air fry models cook differently and yours may cook the broccoli faster or slower than average.
What to serve it with
Again, this recipe is so simple that it pairs well with pretty much anything. Here are a few of my favorite ways to eat it.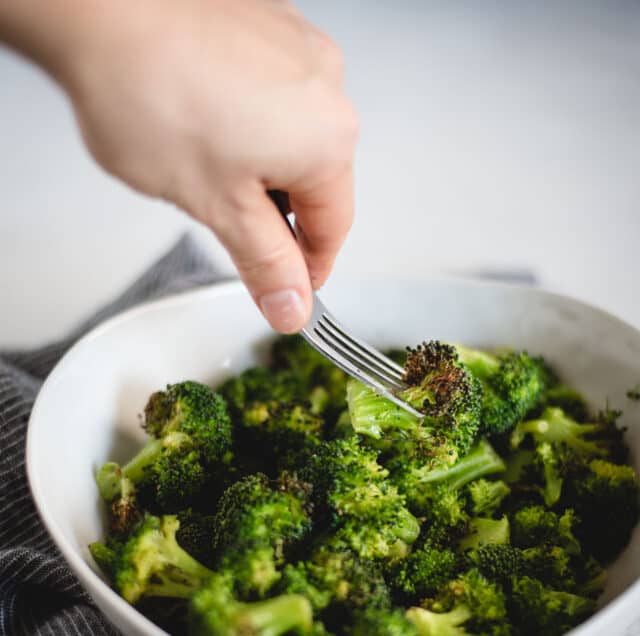 Air fryer broccoli is the easiest, simple, delicious side dish that can be ready in minutes with ingredients found in your spice cabinet.
Ingredients
12 oz. broccoli florets cut into roughly 1" pieces
1 Tbsp. avocado oil olive oil works here too
1/2 tsp. garlic powder
1/4 tsp. salt
1/4 tsp. black pepper
Instructions
Start preheating air fryer (if yours has this feature).

Rub broccoli florets with oil and then sprinkle garlic powder, salt and pepper on top. Rub seasoning in to coat evenly.

Place broccoli in air fryer basket and set temperature to 400° F (205° C) for 7 minutes.

Half way through cook time, after about 4 minutes, remove the air fryer basket and shake the broccoli around. Replace basket and let broccoli finish cooking.

Remove broccoli from air fryer. If it isn't crispy enough, cook for an additional minute or two (exact time depends on your air fryer model and floret size). Serve cooked broccoli immediately since it looses crispiness quickly. Enjoy!
Nutrition
Calories: 64kcal | Carbohydrates: 6g | Protein: 3g | Fat: 4g | Saturated Fat: 1g | Sodium: 148mg | Potassium: 280mg | Fiber: 2g | Sugar: 1g | Vitamin A: 532IU | Vitamin C: 76mg | Calcium: 42mg | Iron: 1mg