Ten green food ideas to hep you celebrate St. Patrick's day in a healthy way that is still incredibly fun and full of all things green and festive!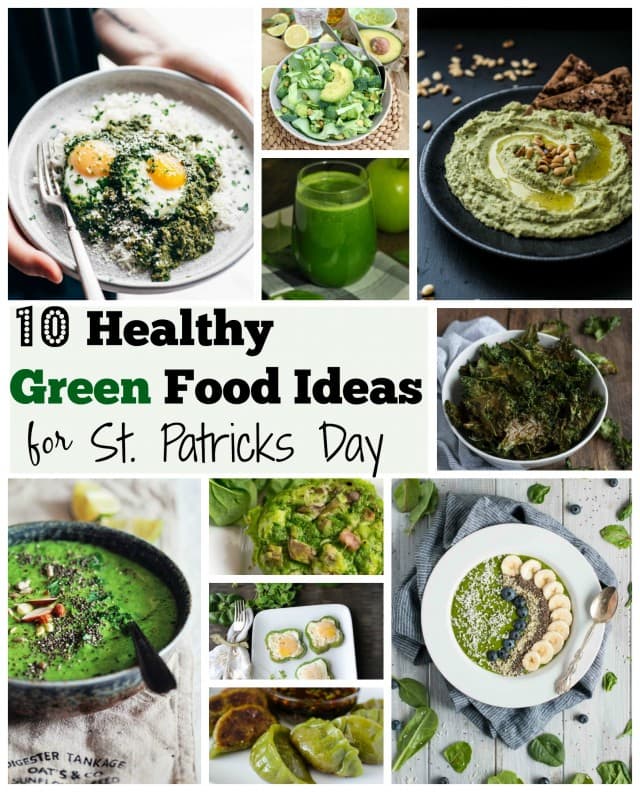 I know our Americanized version of St. Patrick's day is a far cry from traditional religious celebrations that happen across the pond for the saint, but I can't help loving this holiday, however far it has strayed from its origins. Green is a fabulous color guys. Plus, the Irish culture has so many cool traditions that, even when done in a totally unoriginal and gimmicky way, can still be crazy amounts of fun.
Corned beef and cabbage? Yes please. Green beer? Load er up. Mini leprechaun hats? Absolutely necessary.
I think everyone in North America has been through this regimen. My mom always made a traditional Irish dinner on St. Patrick's day and sprinkled other green treats in throughout the day. My mom had the holiday department on lock down.
Even though I'm a legitimate adult now, I still absolutely love this kind of stuff pretty much with the same intensity that I did at the age of seven. For anyone else out there like me, that always makes sure to wear green with a pinch awaiting any unlucky soul that forgot, this list of green food ideas is for you. And since we're adults after all (cue violin playing quietly in the background), the green recipes I rounded up are all healthy!
From hummus to frittatas, I've got you covered. I chose to share a spattering of green recipe ideas from different food types (soup, salad, drinks, etc.) so just pick whatever is easiest and/or most appealing to you and your food lovin' crew. Go forth and sprinkle some St. Patrick's Day love on all you know with green snacks and goodies, and a good pinch or two wherever it's deserved.