This quick and easy vegan chickpea salad is full of fresh Mediterranean flavor, is great for meal prep lunches and is ready in 15 minutes!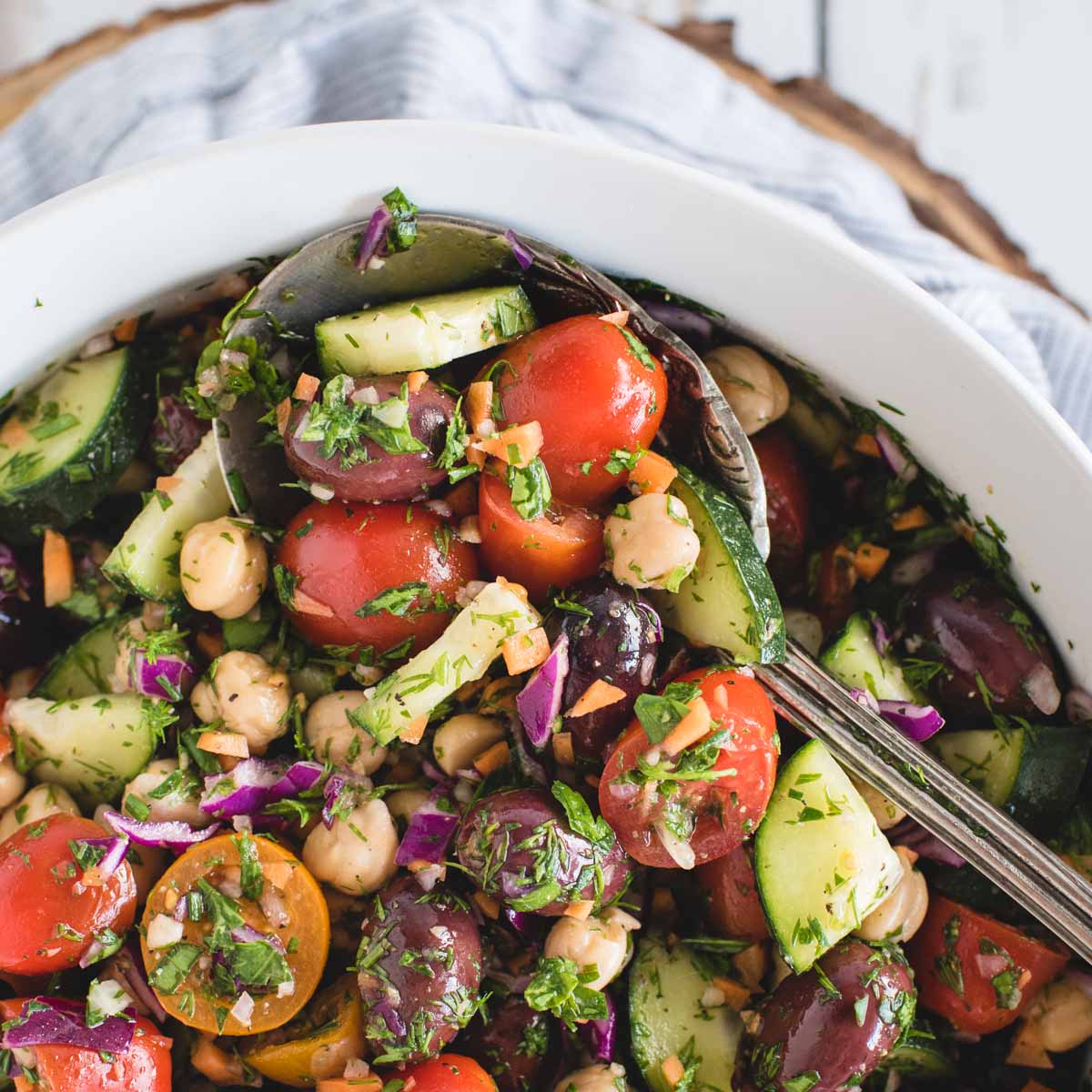 This vegan chickpea salad has been on our rotating meal prep lunch list for several months now and I still can't get enough of it! The ingredients are simple, it's easy to make, all made in one bowl, and its so fresh tasting and satisfying.
The mix of veggies gives it the perfect crunch and the herbs, vinegar and kalamata olives give it a distinctly mediterranean flair that will tantalize your tastebuds. The protein from the chickpeas mixed with all of the fiber will actually keep you full until your next meal which not all vegan salads can promise!
Chickpeas are a great way to eat more plant-based meals since they're easy to use and absorb whatever flavor you pair them with. They're also inexpensive making them a great budget friendly protein source like in this vegan chickpea curry or this tomato basil chickpea salad. Both are absolutely bursting with flavor.
Ingredients
One of the best things about this recipe is the freshness since most of it is simply fresh vegetables and herbs. The flavor comes from the veggies themselves, the vinegar and salt of course but mostly, the sheer quantity of herbs used.
This one is all about the herbs baby and for that reason, its important to use a lot of them and only fresh. Dried herb substitutions will not work here.
Now that we have that covered, here are the ingredients you'll need to make this simple chickpea salad:
fresh herbs – I use a mix of dill, parsley, and chives
shallot or part of red onion – you can also sub in sliced green onion if you prefer
cherry tomatoes – the juicier the better
cucumber – I prefer pickling cucumbers or English in this recipe since they stay crisp the longest but regular cucumbers will work too
canned chickpeas – the protein source for this vegan salad
kalamata olives – these add saltiness and a nice briney flavor
carrots – as much for the color and crunch as they are for the flavor but they also add nutrition as well
cabbage – as you can see in the pictures, I used red but green is fine too
red wine vinegar – use a good quality vinegar if you can since it will have a more subtle flavor
olive oil – a good quality olive oil adds both healthy fat, helps with satiety and helps keep the salad moist
salt – I use Himalayan pink salt and definitely recommend it but you can use what you prefer
pepper – just plain black pepper will do, the finer the grind the better
minced garlic – to make the recipe even faster, sometimes I just use jarred pre-minced garlic. Since it isn't a main ingredient or driving the bulk of the flavor in this recipe it works fine.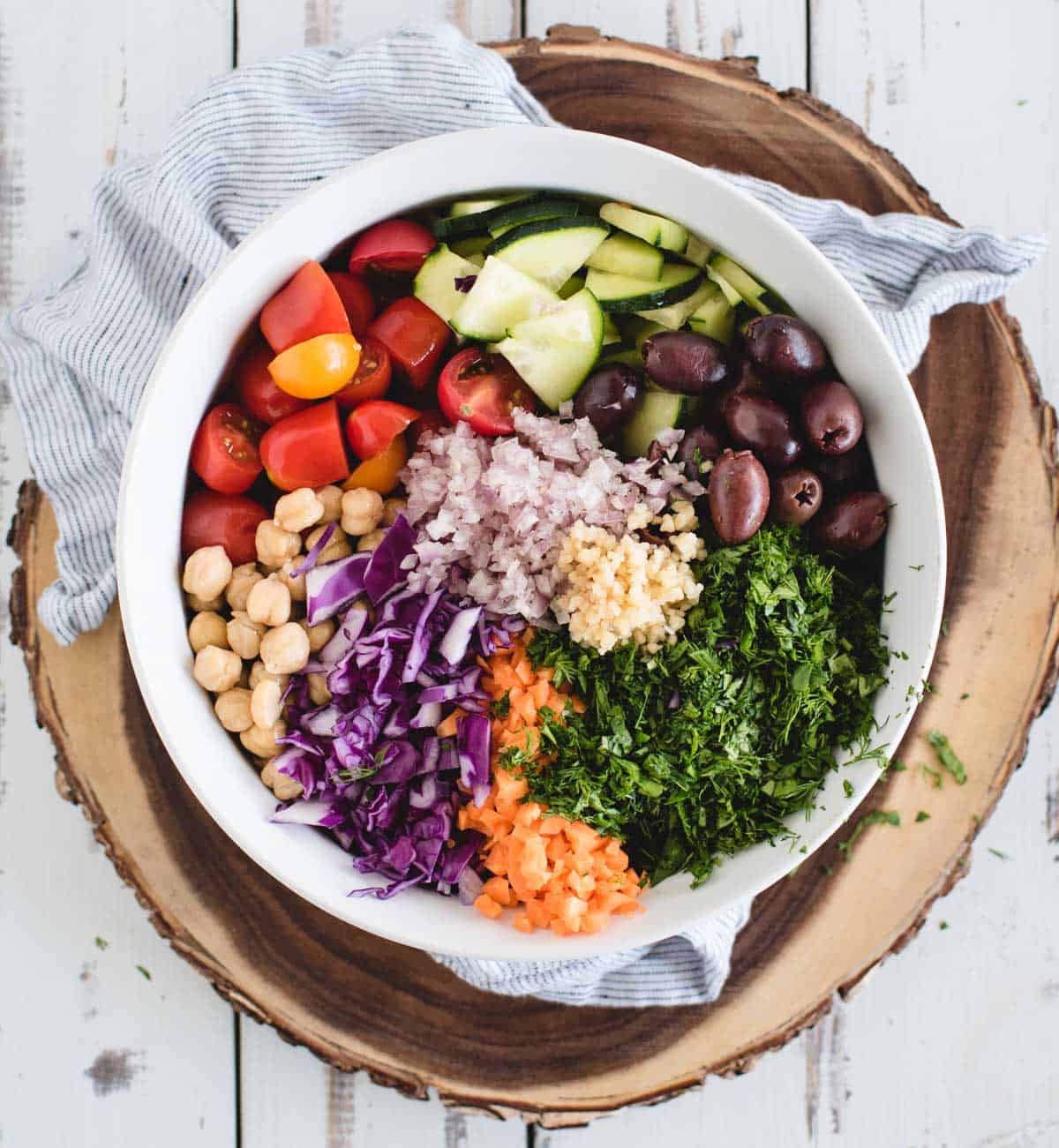 How to make a vegan chickpea salad
This recipe is as quick and easy as can be, coming together in 15 minutes or less! The bulk of the work is in the chopping. Once that is out of the way, the only step left is to stir the salad up and start eating.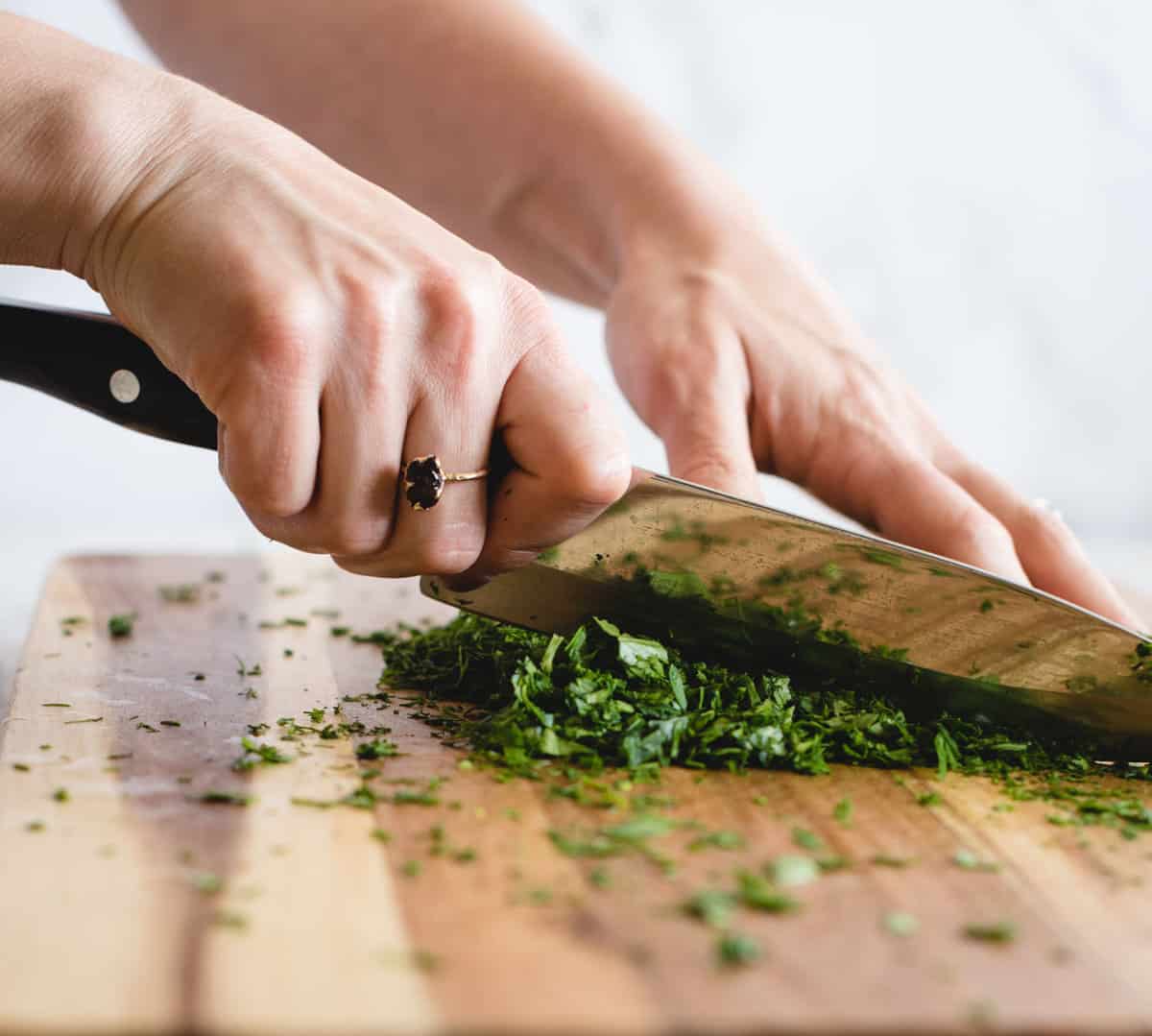 Can I prep it ahead of time?
This is a great meal prep recipe since it keeps so well and makes for an excellent lunch. I chose the ingredients not just for taste, but also for their ability to stay crunchy for a few days. It lasts up to 4 days in a tightly sealing container in the refrigerator making it great for meal prep.
Since the vinegar and tomatoes are both acidic, I like to use a glass container to keep it from developing a plastic-like taste. You might not care about that though and it certainly isn't necessary.
One thing to note is that purple cabbage will turn the chickpeas purple over time. I don't mind this for myself but if you're making it ahead of time and plan to feed this salad to guests you might not want this discoloration.
To prevent this, store the chopped cabbage ingredients in a separate container and add them to the rest of the salad right before serving. OR just use green cabbage instead.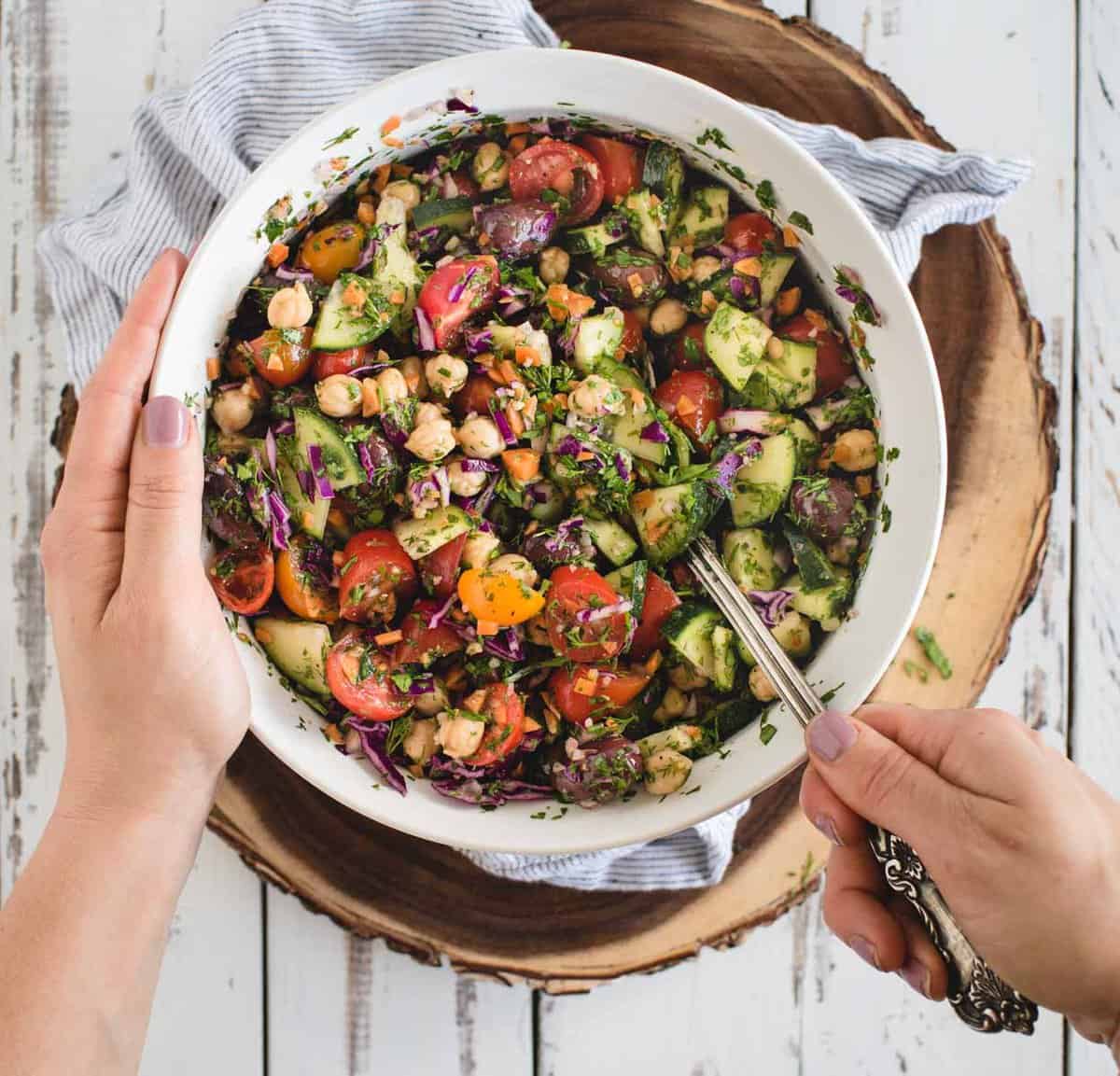 Substitutions
The recipe has been tested thoroughly as written and is guaranteed to be delicious that way but with a chickpea salad recipe like this, its very easy to tweak it to your needs.
For best results, if omitting any ingredients, add more of another or substitute with another with similar consistency. For example, if omitting cucumber, you can sub with bell pepper or zucchini so you still have some crunch. This recipe is full of textures and that's part of its appeal.
Here are some ideas of things you can add or tweaks you can safely make:
If you don't like dill, sub with basil for a bit of a different flavor profile
Cucumber can be swapped for raw zucchini if you'd like that better
Red pepper is a great addition or replacement for other veggies
Tomato is critical due to it's juiciness but if you want to swap in another veggie, it will probably still work, the salad just won't have that same juiciness
I used red wine vinegar for it's subtle flavor but any other good quality vinegar or even lemon juice would be okay to substitute
If you don't like olives, you can omit them and just plan to add extra salt
If you want it to taste more like a Greek chickpea salad, add in some feta (there are vegan fetas out there too!)
Shallot can be replaced with red onion or even green onion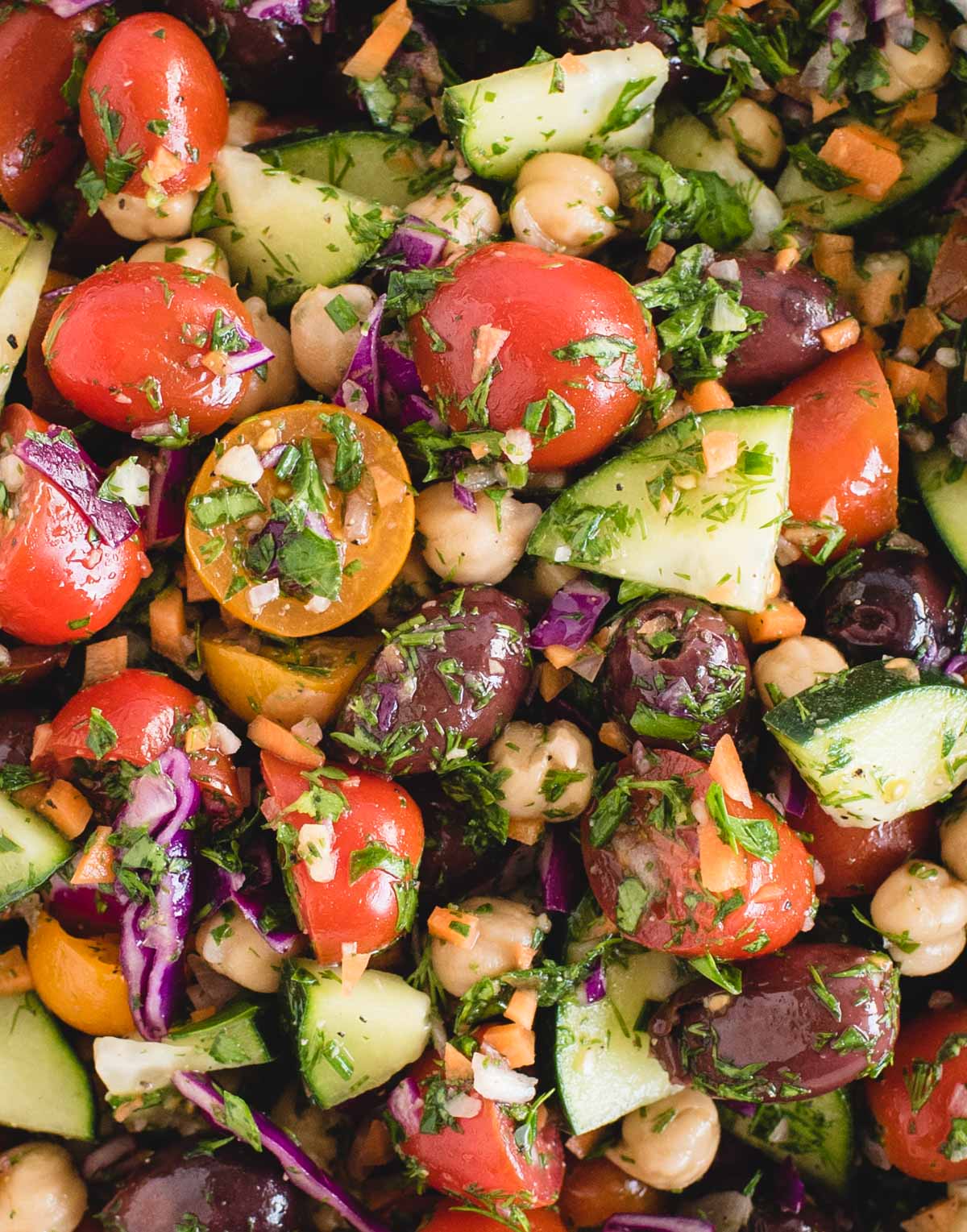 Serving Suggestions
I usually just make this on it's own as a quick and easy lunch since it is superb for meal prep and guarantees healthy lunches throughout the week. That being said, it would also make a great mediterranean side dish!
If you're not vegan and wanting to fit this into a meal, this chickpea salad would pair excellently with several other recipes. Our lemon dill rice and lemon dill salmon with this zippy herbed whipped feta or this baked feta as an appetizer would make an amazing meal!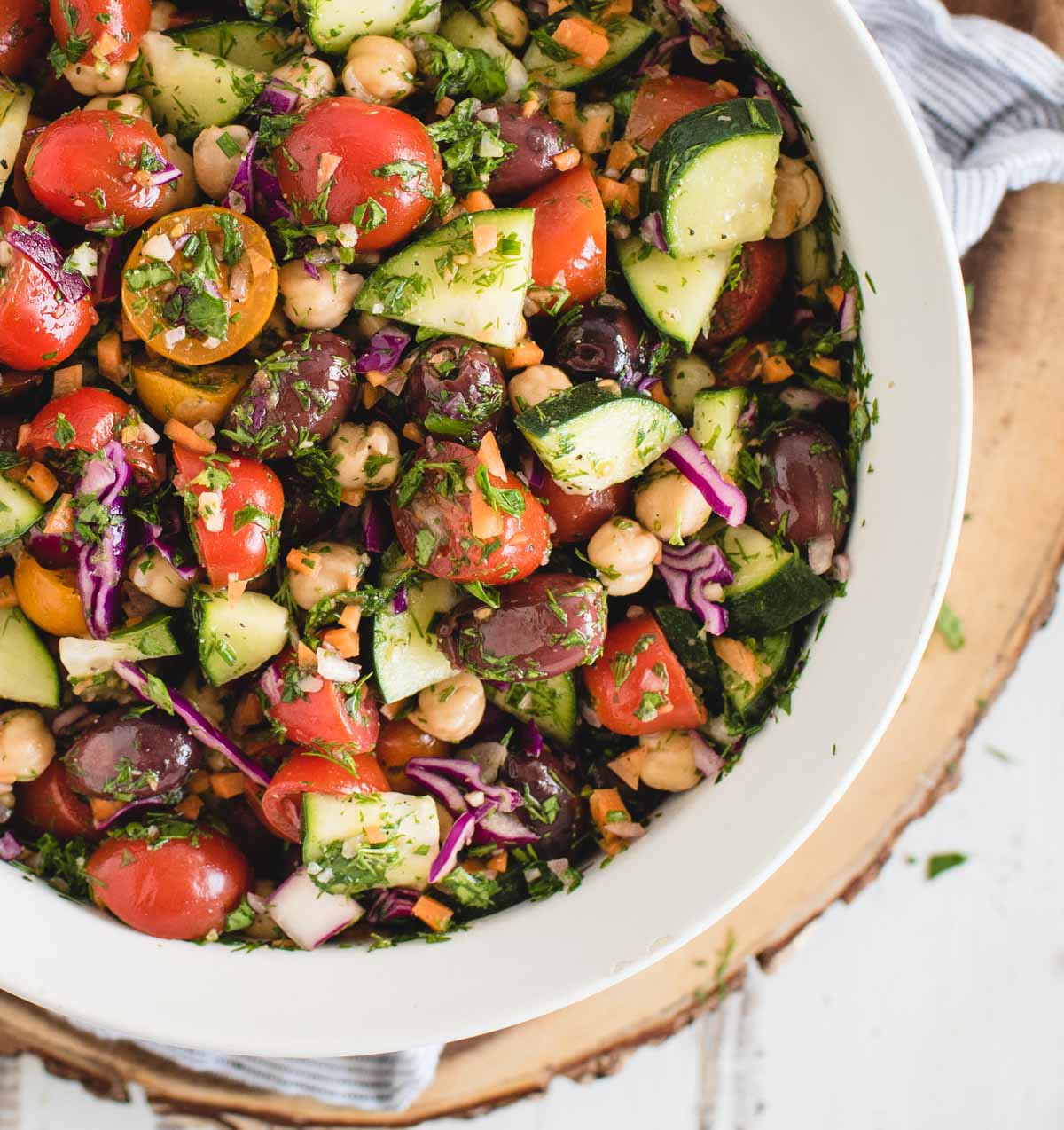 How do I cook chickpeas myself?
Canned chickpeas are already cooked and just need to be drained and rinsed prior to use. If you'd like to cook your chickpeas yourself though, you can do this easily on the stovetop or Instant Pot.
Is there a difference between chickpeas and garbanzo beans?
No there is not. They are the same thing.
Do I need to rinse the chickpeas?
Yes! Unless you like gas? Rinsing helps remove a type of carbohydrate in beans that causes you to have gas when digesting them. Also, eating more beans helps your body be able to break them down more easily.
Other vegan salad recipes
This recipe is one of my go-to favorites and here are a few other vegan salads that you'll love just as much:
people as main dish (or 6-8 as side dish)
This easy, tasty vegan chickpea salad is full of Mediterranean flavor from tomatoes, cucumber, kalamata olives and seasoned with fresh herbs.
Ingredients
1 cup fresh chopped herbs I use a mix of dill, parsley, and chives
1 small shallot or part of red onion about 2 tbsp. finely minced (or can sub with 1/4 cup sliced green onion)
2 cups cherry tomatoes halved or quartered if large
1 cucumber quartered lengthwise and then sliced about 1 1/2 cups, I prefer pickling or English cucumbers
15 ounce can chickpeas drained and rinsed
1 cup kalamata olives
2 carrots peeled and chopped, about 1/2 cup
1 cup chopped cabbage red or green is fine
3 tablespoons red wine vinegar
2 tablespoons olive oil
1 1/4 teaspoon salt
1 teaspoon pepper
2 teaspoons minced garlic jarred pre-minced is fine
Instructions
Add all ingredients to a large bowl or container

Stir to toss and evenly distribute all ingredients. Taste and adjust salt and pepper level to preference. Salad will keep in a tightly sealing container in the refrigerator for up to 4 days.
Notes
Salad will keep for up to 4 days in a tightly sealed container in the refrigerator. The purple cabbage will start to discolor the chickpeas after 3-4 hours so if you care about the presentation, wait to add the cabbage until just before serving or use green cabbage instead.
For best results, if omitting any ingredients, add more of another or substitute with another vegetable with similar consistency (i.e. if omitting cucumber, you can sub with bell pepper or zucchini).
Nutrition
Serving: 2cups | Calories: 270kcal | Carbohydrates: 29g | Protein: 9g | Fat: 15g | Saturated Fat: 2g | Polyunsaturated Fat: 2g | Monounsaturated Fat: 9g | Sodium: 1601mg | Potassium: 800mg | Fiber: 9g | Sugar: 7g | Vitamin A: 7391IU | Vitamin C: 65mg | Calcium: 127mg | Iron: 4mg